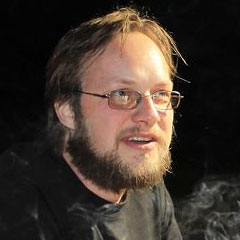 About
I approach knife making with humbleness. I do believe that every craft should be done properly and with care – only then can it truly delight the craftsman as well as the future owner of the product.
---
Man's most faithful helper
Although looking quite simple, the knife embodies a lot of craftsmanship, deep knowledge, and even history. Just imagine the wide variety of materials that are processed in many different ways to form a well-working whole. This simple, yet amazing tool has been a faithful helper of the man since ages and it's capable of helping, creating, but also destroying.
All of my knives are made in a traditional manner and, to a great extent, I rely solely on my hands and simple tools. I'm continuously working on deepening my knowledge. First, I observe the old master knifemakers and soak in their wisdom and skills, which I then thoroughly test myself and transform them into my own processes and methods.
The blades of my knives are made only of such materials that can be processed manually, most of them being carbon steels used for making knives. These steels are reliable and easy to sharpen, but they do require some care and maintenance from the knife owner. My handles and sheaths are made exclusively of natural materials, such as wood, leather, antlers and metals. All products are finished with quality drying vegetable oils, waxes and natural varnishes made from fossil resins.
When designing my knives, I rely upon my many years' experience as a graphic designer. I'm aiming to create a blend of originality, elegant simplicity and practicality, and I always focus on achieving a harmony of natural shapes, tasteful combination of all materials and a coherent whole.
---
Does my work appeal to you?
I make a variety of knives, so I hope that you too will find here the one that becomes a part of your life and a reliable lifelong helper of yours expressing your personality.
Payment, Shipping and Refunds
I accept PayPal and Credit Card (through secure PayPal system) payments. Orders will ship within 1 - 3 business days after the payment is received.
Should you be dissatisfied with your purchase for any reason, just contact me within 7 days after delivery. Ship the item back to me at your expenses and once it arrives, I will refund you the purchase price minus the original shipping cost.
---
Contact me by e-mail or on Messenger.

You can also find me on social networks.